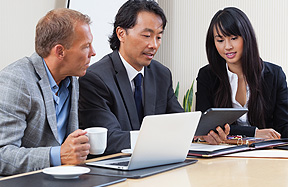 W2G, we are a team, bringing in vast experience from past companies, united to provide unparalleled value to our clientsOur scale, scope, and knowledge allow us to address problems that no one else can. We have deep functional and industry expertise. We are passionate about taking on immense challenges that matter to our clients and, often, to the world.
We bring out the capabilities of clients to fully participate in the process and lead the ongoing work.
W2G offers a full life cycle software development to independent software vendors, systems companies Our services span product development, testing, technical support, and implementation W2G, a dynamic IT services company, is your perfect stop if you are ready to go the extra mile and work with a dream to be the best. If you are amongst the driven and always seeking challenges kind of a software professional, we have the right atmosphere for you. We can develop technology solutions that can weave together the fabric of your organization, enabling users to collaborate, share ideas, discover information, and stay in sync with organizational challenges. When employees have essential information at their finger tips, they are empowered to make informed decisions in a flash, increasing productivity and morale.

We create dashboards that enable you to check the pulse of your business, enabling you to extract critical insights from data, fine tune your business machine, and continue to tweak your processes for optimal performance.In summary, we increase reliability, speed, and agility so you can achieve sustainable advantages and leap frog over your competitors.